Local Info
Travel
By plane
There is an international airport (Václav Havel Airport, PRG) approximately 10 km from the city centre, which is accessible by direct flight from most European cities. From the airport, you can reach the city using bus 119, which stops directly in front of the departure halls.
By train
Prague Main Station (Praha hlavní nádraží in Czech) is located in the very city centre, and Prague underground (red line C, stop Hlavní nádraží) can be entered directly from the station's main hall.
By bus
Prague Main Bus station is located at the crossing of yellow line B and red line C, one-stop far from the main train station.
Public transport
Prague has quite a dense system of public transportation. To plan your travels, we recommend the use of the official PID Litacka app, where also tickets can be bought. It is also possible to use Google Maps to check your connections. The price of a ticket is 40 CZK per 90 minutes, and there are also 24/72 hours tickets available with a discount. Public transportation tickets can also be bought at a ticket machine, which also accepts credit/debit cards. We cannot recommend using a taxi in Prague. If it is absolutely necessary, use some application such as Uber, where the price is known in advance.
Venue
The summer school will take place at the modern building of the Faculty of Information Technology at the campus of the Czech Technical University in Prague. The campus is located right at the metro station Dejvická which also has multiple tram and bus options.
Accommodation
As Prague ranks among the safest cities in the world, you can feel confident that almost any choice of accommodation will provide a secure stay during the conference. Additionally, Prague boasts an efficient and affordable transport network, ensuring easy access to the conference venue. However, it is advisable to book your accommodation in advance to secure your preferred option. Here are a few recommended choices:
On-campus accommodation is available directly at the university. You can make reservations through the university's website at university webpage. We recommend considering the Masaryk Dormitory Hotel or any of the Prague 6 Hostels, as they are conveniently located within walking distance of the conference venue and easily accessible from the airport. This option tends to be the most cost-effective.
Any accommodation in the Dejvice district will be within walking distance of the conference venue and even major attractions such as Prague Castle.
The conference venue is easily accessible from the city centre using public transport, with a journey time of approximately 10 minutes.
If you prefer to be closer to nature, consider selecting accommodation around Divoká Šárka or Stromovka. Both locations offer a serene environment, while still providing convenient access to the city centre and the university via public transport, which takes around 10 minutes.
Restaurants & Bars
There are many restaurants, cafes, bars, and breweries within walking distance of the university. Below, we provide some recommendations of nice businesses for different opportunities.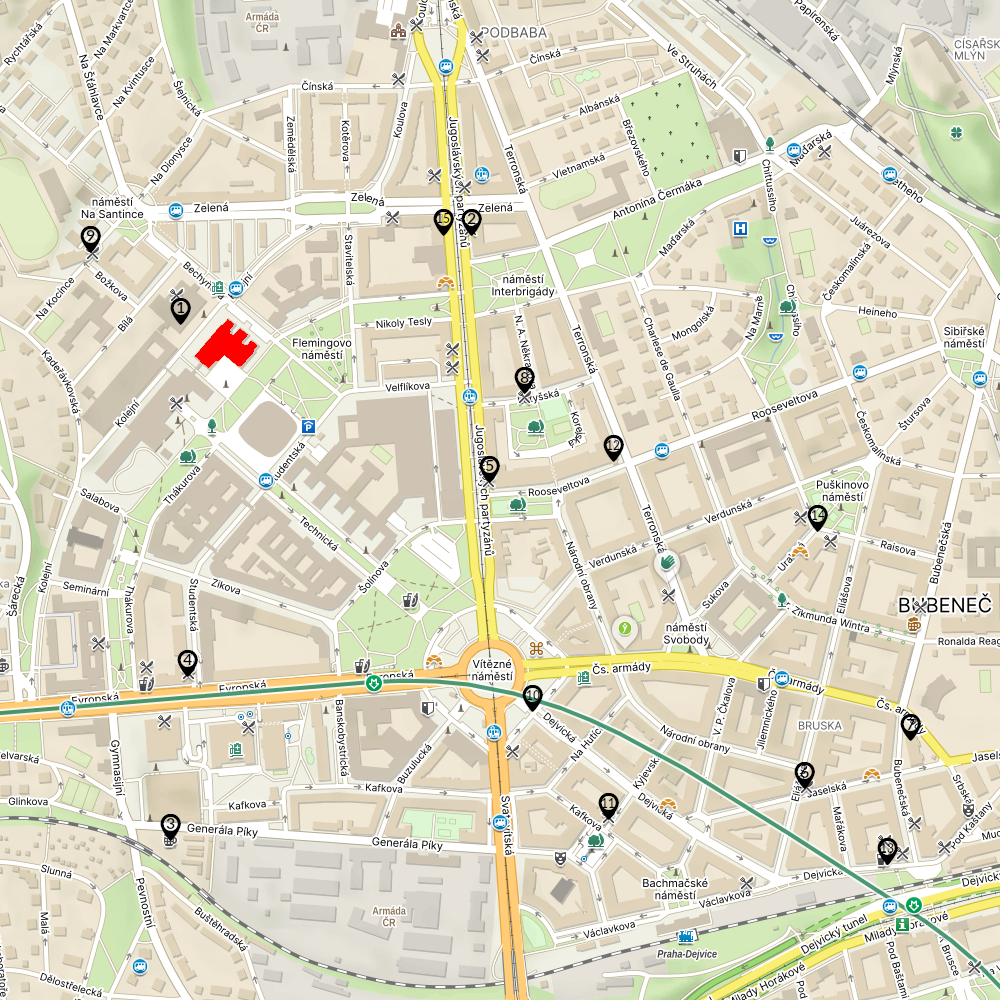 | # | Name | Address | Description |
| --- | --- | --- | --- |
| 1. | Menza Studentský dům | Bílá 2571/6 | University canteen, the closest and the cheapest option. Vegetarian options are usually available. |
| 2. | U Topolů | Zelená 943/7 | Czech cuisine, including vegetarian options. Nice environment, but usually a little bit crowded during lunch time. |
| 3. | Kulturní centrum Klubovna | Generála Píky | Student bar with nice garden and multiple beers on tap. Good for evening hangouts. |
| 4. | Dua | Studentská 529/1 | Very nice vietnamies restaurant. |
| 5. | Pizzeria Grosseto | Jugoslávských partyzánů 611/8 | Good pizza place. Prices can be a little higher than average. |
| 6. | U Veverky | Eliášova 324/14 | Czech cuisine and famous for good beer. |
| 7. | U Viléma | Čs. armády 276/3 | Czech cuisine and good beer. Big and lovely garden. |
| 8. | U Pětníka | Lotyšská 645/8 | Czech cuisine, vegetarian options available. Usually less crowded than U Topolů. |
| 9. | Na Kotlářce | Na Kocínce 210/3 | Reasonable restaurant with czech cuisine and burgers, nice garden. |
| 10. | | Vítězné náměstí 576/1 | Lot of fast-food options including KFC, pizza, and Bageterie Boulevard. |
| 11. | Pivní Jistota | Kyjevská 686/3 | Beer bar with many craft beers on tap. |
| 12. | Kavárna Kabinet | Terronská 619/25 | Coffee place with artistic atmosphere. |
| 13. | Automat Matuška | Dejvická 184/4 | Interesting place with crafted beer and many fast-food options nearby. |
| 14. | Na Urale | Uralská 690/9 | A square with many good restaurants including czech, asian, french. Also many coffees around including (vegan) bakeries. |
| 15. | Kebab Star & Pizza | Jugoslávských partyzánů 1087/19 | Quick and cheap kebab. |